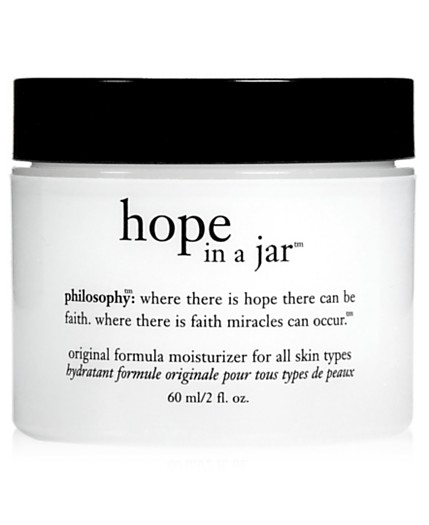 Philosophy: Hope in a Jar (Original Formula)
I bought this stuff in Sephora back in September when I was in the states and have been using it everyday as my day moisturizer, it has replaced my beloved Lancome HydraFusion so you know I must have something good to say about it.
When I was in Hawaii I got a little burnt on my nose and my skin started to peel but I used this stuff a couple times a day and within a day or two my skin was back to normal! Yay no peeling. I also get dry skin around my nose and chin and this stuff has been doing wonders. I actually like it a bit more than Clinique's Superdefense which is my night moisturizer. 
It does have negatives though, for one it doesn't contain any SPF, so hopefully you put some on anyway or your foundation contains it. 
The second is that it contains fragrances like lavender which can be irritating to some skin types, I haven't had a problem with it though.
Product: 4/5
Packaging: 2/5 (I prefer pumps!)
Value for Money: 5/5
Hope in a Jar is available from Sephora in the US and Mecca Cosmetica.
US Prices start from $15 for 0.5 fluid ounces.
AUS $70 for 2 fluid ounces.